iNethack2: Changing Tilesets
Submitted by Akolade on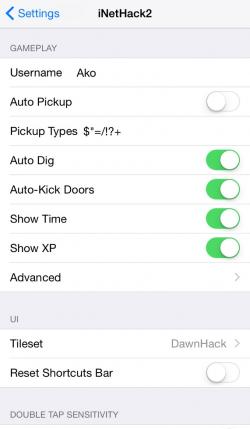 So far the most common FAQ about iNethack2 is: how do I change the tileset?
Here's how:
Exit iNethack2
Go to the Settings app on your Apple device
Scroll down through the list of your apps and pick iNethack2
You can change the tileset here, as well as your player's name, Hearse settings, and many other things
There you go! Enjoy the different tilesets. Abigaba Chozo B (the default) has always been my favorite, but I've been playing with DawnHack a lot lately and it really gives the game a different feel. When I want to relive the days of playing Nethack in High School computer class in Windows, I'll switch to Tiles32.
Or if I want to relive playing the original game on my PC in Junior High, ASCII it is.