Interplanetary Drift for iPad!
Submitted by Akolade on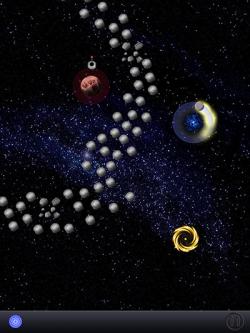 Interplanetary Drift is now a Universal App, which means it will play natively on the iPad and look way nicer and properly fill the screen at the same time!
To account for the extra width due to the differences in the aspect ratio between an iPad and an iPhone, I had to add some extra asteroids on certain levels and adjust a few things. But the game will play basically the same. I'd say it's possibly a bit easier on iPad simply because it will be easier to touch your pods accurately due to everything being larger. The one big difference between the versions is that the iPad doesn't do the zoom out effect when you are near the screen edge. It is actually always "zoomed out", which is kind of nice. I feel like the zooming helps on the iPhone to accomodate for the smaller size but it's not really needed on the iPad.
So check it out in the App Store. If you already have the app and have been playing on your iPad, then things will look nicer now.
If you are playing on your iPhone, nothing much is going to change other than it will take up more space. Cool right?
Actually some of the menu spacing has been adjusted on iPhone, so there's that. Also I made the final level a tad easier, and I feel like no one has actually finished the game yet, so I could have not said anything and you would have never noticed.