iNethack2 2.0.6: New Dawnhack, Travel option
Submitted by Akolade on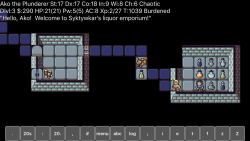 It's been awhile, so I figured I should do at least a small update to the game. New version just released has the following two additions:
New version of the popular DawnHack tileset (created by the talented DragonDePlantino), labelled as "DawnHack (New)". This version has crisper tiles, some tile corrections, and removes the tiles that show you what certain gems/stones/etc are (which would normally not be identifiable via the tile). 
Travel setting: if you don't like the "travel" feature of Nethack where the game will use pathfinding to walk to a space you tap on (when the screen is scrolled off of your character), then you can now disable it
Both these new settings are in the settings page as usual (iOS Settings App -> Scroll down to iNethack2).
In other news I have been checking out the Nethack 3.6.0 course code, trying to see the effort in upgrading the core code of iNethack2 to use the latest Nethack source. Not real timelines on that yet but I am definitely going to try integrating the new core code and see what issues (if any) there are with the iNethack2 code.
Also if anyone is experiencing crashes, do let me know and any info about what was happening in the game at the time would help track them down. I haven't had much luck causing crashes on purpose so I haven't been able to fix anything so far.
Again thanks for playing!